Student:
T.K. Justin Ng (MArch I 2023)
Course:
Core 2, Alfredo Thiermann
Project:
A stacking of trusses to achieve broad spans that accommodate a range of sports.
The patina bronze members are created by spray painting this pieces of acrylic. A metallic bronze color is sprayed evenly over the surface first. Then the model is assembled before a green color is sprayed from a distance to achieve a speckled effect. The grey cores are 3d printed.
This model began with the structural model. Then museum board (painted in beige) is added to show the floors. Sanded pieces of plexi is used as frosted glass.
This model shows the materiality of the project. It began by first setting up the structural members in thick pieces of plexi, spray painted in silver. The pieces are superglued together and took 24 hours to dry properly before load could be applied.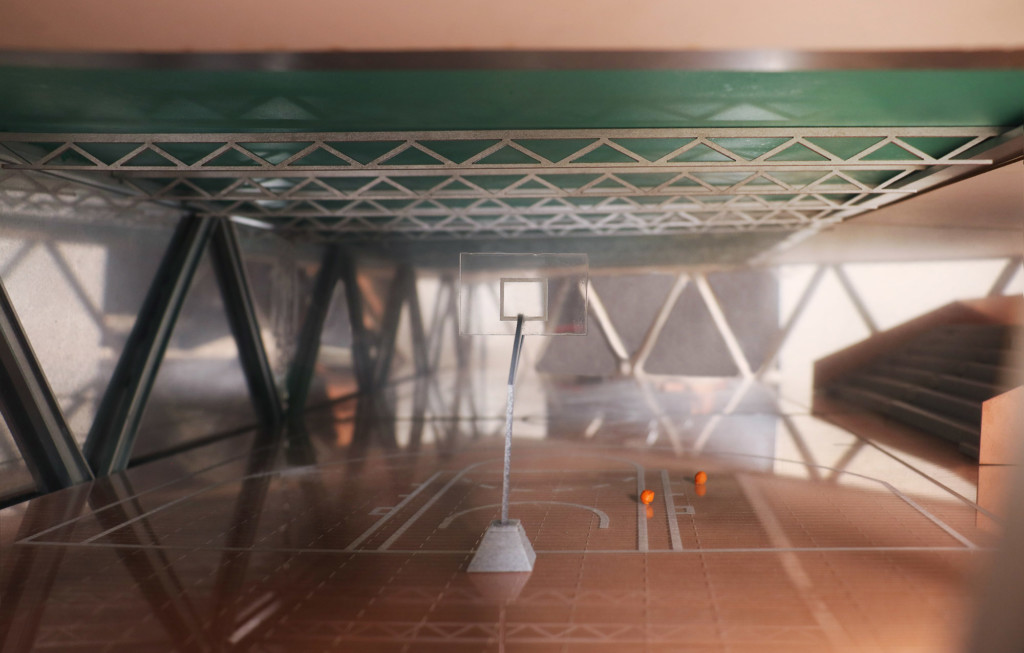 Only 1/4 of the model is built so two mirrors are placed to create a reflection. These mirrors are created by spray painting mirror finish on plexi. The beams on the ceiling in this view created by spray painting museum board instead of plexi (unable to be cut this thin)
---
Other Projects with the Same Project Tags:
Model Types: interior, construction detail, building, fragment
Lab Areas: zund, laser cutter, project room, hand made
Material Processes: 3D printing, coating, etching, hand cutting, laser cutting, zund cutting
Primary Materials: acrylic (PMMA), museum board, matboard, PLA (polylactic acid)
Finishing Materials: water-based spray paint, paint
Model Scale: 1/4″=1′-0″, 1/16″=1′-0″
Mention the author(s) on the FabLab Forum using the following usernames: @Ng_Justin